23
February
UltraViewer and TeamViewer are two popular computer control software programs that are often compared. However, when choosing between the two, users often wonder which is more suitable for their needs. In this article, we will compare UltraViewer vs TeamViewer in detail, looking at features, ease of use, pricing, and more to help you make informed decisions.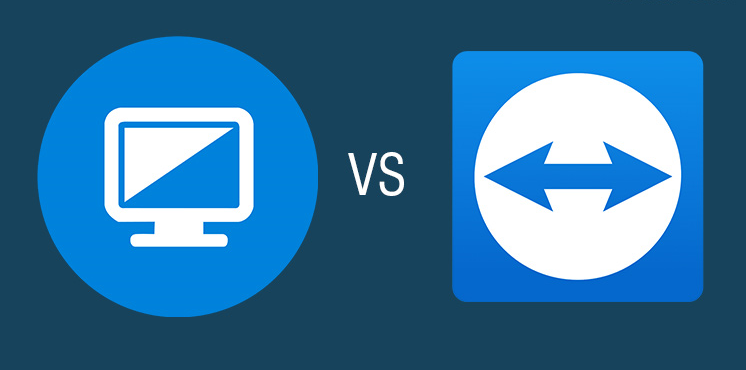 Ease of use:
Both UltraViewer and TeamViewer have user-friendly interfaces that make it easy to navigate the software and perform tasks. UltraViewer's interface is simple, making it easy for users with minimal technical knowledge to use the software. On the other hand, TeamViewer has features that require complicated setup, such as turning on the remote computer Wake On Lan, which can be a hassle for newbies and take some time to master.
Free version:
UltraViewer and TeamViewer both have free versions. However, UltraViewer allows free use with no time limit, regardless of the object and purpose of use. While TeamViewer is only free for personal users, UltraViewer is available for business users who want to use basic features and use it for commercial purposes.
TeamViewer users deemed to be abusing the free policy will frequently receive a "connection blocked after timeout" message. Users can only access it for a session of 5 minutes or less. TeamViewer's free time limit is a drawback that causes many users to look for a free alternative to TeamViewer.
Price (for the paid version):
When it comes to pricing, both UltraViewer and TeamViewer offer different pricing plans based on features and user needs. UltraViewer offers a Lite plan for as low as $47.88/per year, while the premium version starts at $95.88 per year, allowing unlimited endpoint connections.
Meanwhile, the cheapest individual license plan that TeamViewer offers is $298.8/year/person. With the license plans for groups and businesses, you will need to pay around $610.8/year for the Business License, $1234.8/year for the Premium license, and $2483.8/year for the TeamViewer Corporate license. The license price of TeamViewer is dozens of times higher than UltraViewer and, of course, will be a burden for small businesses with low budgets.
Features and functions:
Both UltraViewer and TeamViewer provide many essential features such as remote desktop control, address book, file transfer, computer audio playback, and control session recording. However, TeamViewer also offers additional features such as remote printing, online meetings, and multi-user collaboration.
Control multiple concurrent sessions:
UltraViewer is specifically designed to support multiple computers at the same time. If you use TeamViewer and have to support many people at the same time, it will be difficult to switch between screens, and the chat window of TeamViewer when operating in parallel with many people will be very difficult to control, and there will be no notification when a new message arrives.
Meanwhile, UltraViewer has a significant improvement on this point. You can easily manage multiple screens at the same time, do other things, and support customers because the chat frame is located on top in the right-hand corner of the screen. When there is a message to UltraViewer, it also notifies you clearly, and you just need to click once, and the partner's screen will appear.
Chat window:
UltraViewer supports a quick chat window, which is very convenient for customer supportis, and equipped with chat prompts for faster customer support. TeamViewer's chat feature is less friendly, with the chat window designed with a font that is not easy to see. While TeamViewer users may have to use Skype or even Notepad when chatting with customers, UltraViewer's chat window has been professionalized like a miniature Yahoo chat frame.
You can both control and open the chat window easily by pressing the F1 key and the chat window will pop up ready for you to send messages to the person being controlled.
Performance and Security
Both UltraViewer and TeamViewer are known for their fast performance and high-quality security features. UltraViewer uses 256-bit AES encryption to protect data transfers, while TeamViewer uses 2048-bit RSA public/private key exchange and 256-bit AES encryption to secure remote connections.
In conclusion, while TeamViewer offers a more comprehensive and complex set of features that make it ideal for businesses and large teams, UltraViewer is a more budget-friendly option. If you are looking for a TeamViewer or Anydesk alternative, UltraViewer is a great option with a low price and good performance. Download UltraViewer completely free to try now.