16
February
TeamViewer is a popular remote desktop software that allows users to connect to another device from anywhere in the world. With diverse features and powerful performance, it's no wonder TeamViewer is loved by millions of people around the world and used for personal and professional purposes. However, one of the limitations of the free version of TeamViewer is the time limit. In this article, we'll take a closer look at TeamViewer's free time limit and how to fix it.
What is TeamViewer's free time limit?
The free version of TeamViewer is for personal use only and is not available to commercial users. During system user management, TeamViewer may issue a suspected commercial use notice for any instance marked as a commercial device if they believe the user is using it excessively. Similar to TeamViewer, some free Anydesk users also face the message "Anydesk commercial use detected".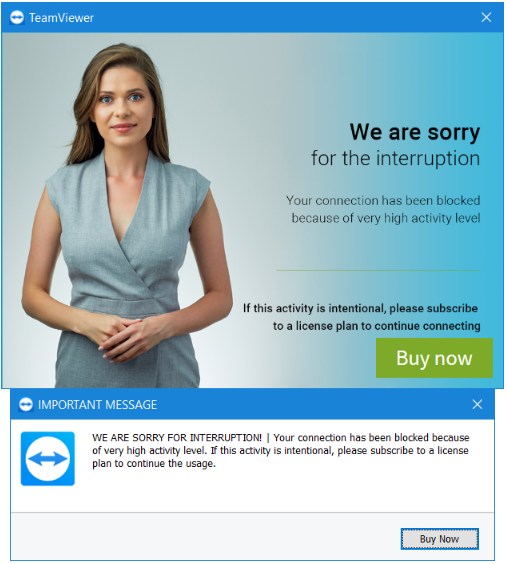 TeamViewer may limit your connections and have a time limit of five minutes per remote session even if you are not violating the license conditions. You will probably receive a notification from TeamViewer saying " Connection blocked after timeout..." This means that after five minutes, the connection will be dropped, and you need to start a new session to continue using the software. Some people even receive the TeamViewer session timeout after a one-minute notification. This can be an annoying limitation for people who rely on TeamViewer for longer sessions, but it's an intentional limitation put in place by the developers.


Why does TeamViewer have a free time limit?
The time limit on the free version of TeamViewer is in place to prevent commercial use of the software without the proper license. The software is intended primarily for personal use, and the limited time helps to ensure that the software is used for its intended purpose. This limitation helps the company generate revenue by incentivizing commercial users to purchase licenses while still allowing individual users to enjoy the benefits of the software for free. However, in recent years, non-commercial users have also encountered many difficulties using the free version of TeamViewer with a short time limit.
How to expand TeamViewer free limitations?
If you need to use TeamViewer for longer than five minutes, there are several ways to extend the free time limit. The first is to use the "Wake on LAN" feature, which can be enabled in the settings. This feature allows you to wake up a remote computer and connect to it, even when it is in sleep mode. This can be useful for longer sessions as it reduces the amount of time it takes for the remote device to connect.
Another option is to reset your TeamViewer ID on the software home page. Then you need to fill out the available form, explain how you are using TeamViewer, and submit a complaint request for review. You'll need to wait a few days to see if you can unlock the free time limit. However, that is very unfeasible.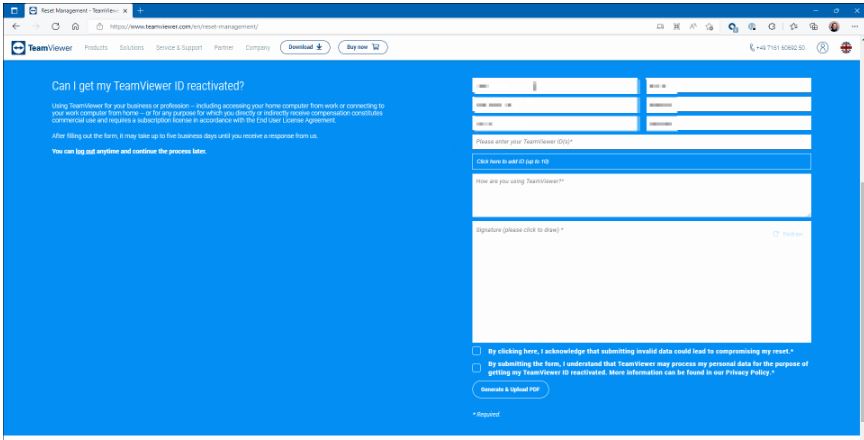 Finally, if you are using TeamViewer for non-commercial purposes but need to use it longer than the five-minute time limit, the easiest way is to purchase a license. TeamViewer offers a variety of licensing options for commercial and non-commercial use, including a "Business" license for small businesses and a "Premium" license for larger organizations. However, the cost of these licenses is quite expensive for individual users and small businesses.
UltraViewer - Free Time Unlimited TeamViewer Alternative
Due to the limitations of the free version of TeamViewer, many users are turning to alternative remote access tools. One such alternative is UltraViewer, which is a freeware that offers many of the same basic features as TeamViewer but with a few key differences.
One major advantage of UltraViewer is that it is free to use for an unlimited time, regardless of whether you are using it for personal or commercial purposes. You are allowed to connect as remotely as you like without worrying that TeamViewer will suddenly disconnect the session and affect your operation. You also won't be forced to receive annoying messages asking you to purchase a license to continue using the software. This is a significant improvement over TeamViewer, which imposes 5-minute, and sometimes even 1-minute time limits on free accounts suspected of commercial use.
You can see more comparative articles about UltraViewer vs TeamViewer for a better overview.
In addition, UltraViewer has a user-friendly interface and provides stable and fast remote access speed. Whether you are looking for a remote access tool for personal or commercial use, UltraViewer is worth considering as a free alternative to TeamViewer. With unlimited free usage and a user-friendly interface, this might be the solution you are looking for. Download UltraViewer now to experience its benefits!