19
November
UltraViewer is one of the most popular remote working tools today. Apart from the free trial version, UltraViewer is deploying three paid versions depending on the needs of customers. And what is special about the paid version compared to the free trial one? Why should buy an Ultraviewer license? Find out through the following article. Here's what you want to know:
1. INTRODUCTION ULTRAVIEWER
1.1. WHAT IS THE ULTRAVIEWER USE FOR?
UltraViewer is specialized software to control remote computers in order to support you or your partner at work. Some basic applications when using Ultraviewer that you can support for customers, partners, and colleagues such as:
- Guide to installing and using some computer software such as Word, Excel, Powerpoint, accounting, sales management, data entry, anti-virus software, ect.
- Support to fix remote computer errors: slow speed, virus-infected computer, ad blocking, file not printing or printing error, email or Outlook error.
- Or access your computer to work remotely through another computer without going to the company.
With Ultraviewer, you can support or be supported anywhere. It's not bound to either space or time. All you need is a computer with a stable Internet connection and UltraViewer pre-installed software. This software will help your work become simple, fast, convenient, and save a lot of time.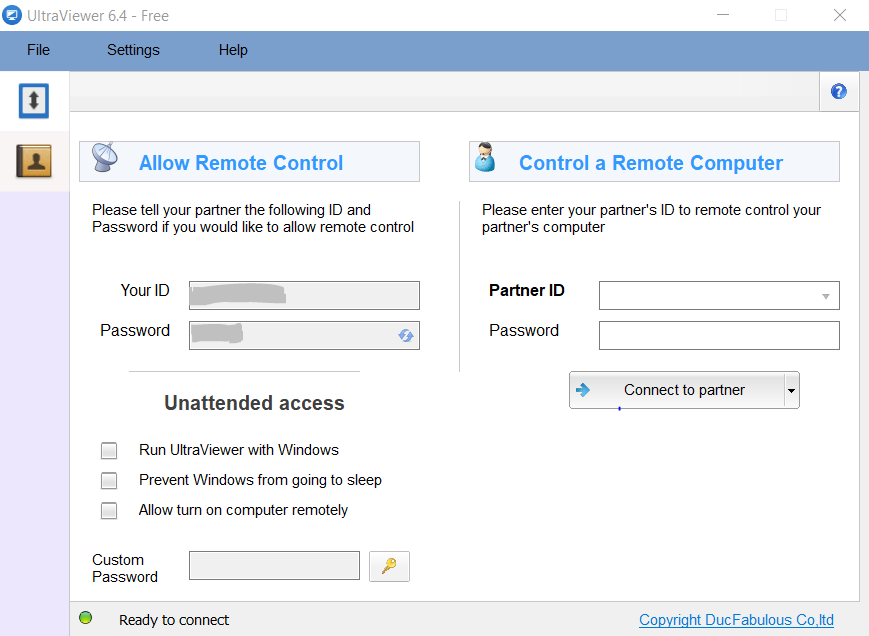 1.2. SOME FEATURES OF ULTRAVIEWER
Ultraviewer possesses all the necessary features of a remote working tool:
- Support remote computer access and control. You can use Ultraviewer for free with a relatively stable connection without being charged a license fee when using it for a long time like Teamviewer or Anydesk.
- File sharing made easy: You can send files to your partners or receive files easily. Everything is under control.
- Smart and professional chat feature: You can both control the computer and exchange information with friends/customers through Ultraviewer's chat box. You can press the F1 button to quickly turn on / off the chat box during support.
- Safety control feature: UltraViewer is designed so that your partner can see what you do on his/her screen if you are a controller, including mouse movements. Your partner can regain control at any time by controlling his/her mouse.
- High security: When you want to end the controlled process of your supporter, you can close UltraViewer and your partner will no longer see your screen or control it. Your partner can only reconnect when you provide him/her with a new password that has been automatically changed by Ultraview on reboot.
- Easy installation and operation: Ultra-light Ultraviewer capacity of only 1.5MB makes the download and installation process quick. Get ready for immediate use.
- Multi-language support: this software currently supports 15 languages ​​in the world.
- All Windows operating systems: Ultraviewer supports all Windows operating systems such as Window XP, Window 7, Window 8, Window 10, Window Server. Currently, Utraviewer software is still being continuously upgraded to be able to support other operating systems.
2. WHY SHOULD BUY ULTRAVIEWER LICENSE?
Currently, Ultraviewer is deploying both a free version and three paid versions with more advanced features including Lite, Professional and Premium.
If you are an individual user with basic and limited needs, the free version is quite enough. However, if you are regularly using remote work software, buying the Ultraviewer license will bring more benefits.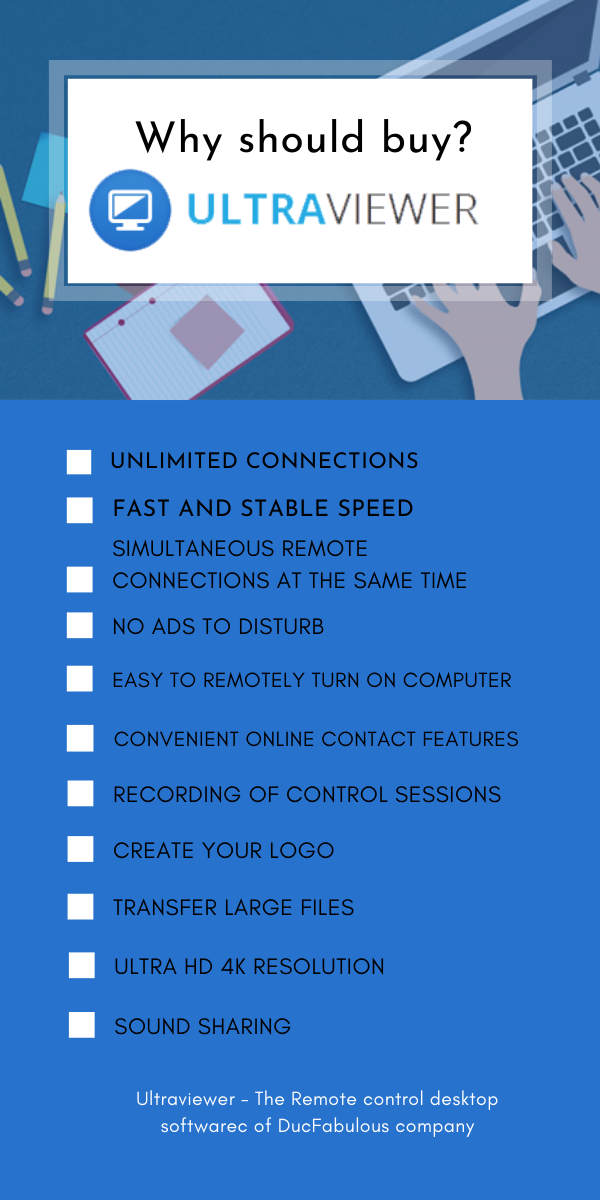 2.1. UNLIMITED CONNECTIONS
When you buy an Ultraviewer license, you will have unlimited remote control and access rights. However, for the free trial version, you will not possess it. The number of computers allowed to be controlled may be limited at certain times such as when the system is overloaded.
2.2. FAST AND STABLE SPEED
Customers who buy an Ultraviewer license will be given more priority than free customers. Therefore, during peak hours, they will still maintain the remote control at a fast and stable speed. But for the Free version, sometimes you can be disconnected suddenly, which interrupts your work.
2.3. SIMULTANEOUS REMOTE CONNECTIONS AT THE SAME TIME
In the Free version, you can only control and support one computer. So what would happen if you had many customers in urgent need of support at the same time. If you're using the free version, you may need to get permission to disconnect this guest before you can access another client's computer. With the advanced Ultraviewer license, you can comfortably support three, five or even more customers at the same time.
2.4. NO ADS TO DISTURB
At the beginning of its development, Utraviewer allowed users to use the completely free service with the desire to connect with as many people as possible. However, the number of users increasing rapidly over time will put pressure on and consume more budget for stable operation of the system.
Maintaining advertising on the free trial version of Ultraviewer is inevitable to cover costs. Particularly for customers who buy the Ultraviewer license, you will be able to use ad-free software, making the process of controlling the computer more convenient and comfortable.
2.5. EASY TO REMOTELY TURN ON COMPUTER
Remotely turning on computers is an important and indispensable feature for customers who need to access and work on their computers. If you use the Free trial version, you need to hang up 24/7, causing a lot of inconvenience and affecting the normal operation of the computer.
When using the Ultraviewer license, you can easily turn on the remote computer in just a few minutes with simple settings in advance.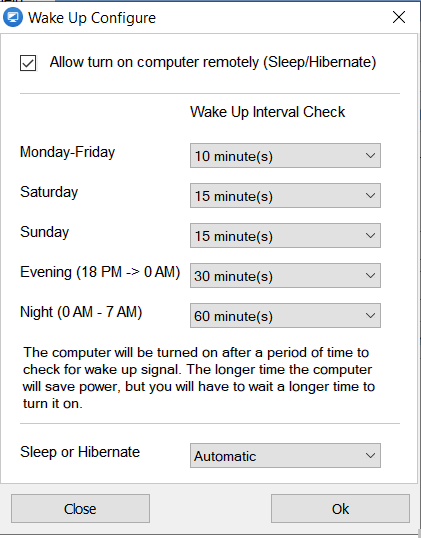 2.6. CONVENIENT ONLINE CONTACT FEATURES
With the online contacts feature, you can save a list of computers' IDs when you need a quick connection without having to remember IDs and passwords. This will save your time and the support will also become simpler and more convenient.
2.7. RECORDING OF CONTROL SESSIONS
When buying the Ultraviewer license, you will be able to use the video recording feature which records the control session. The feature will help managers monitor how their staff support customers or operators need to record the screen for the purpose of teaching and re-instructing others.
2.8. CREATE YOUR LOGO
Supported version with your own logo will help the brand image become popular and make a bold impression in customers. This is considered a simple, effective and fast way to promote a brand's communication development strategy.
Read more: How to create a version of Quick Support with its own logo
Some of the latest features are rolling out such as:
2.9. TRANSFER LARGE FILES
Customers who buy an Ultraviewer license can send heavy files directly through Ultraviewer. You do not need to compress the file or send it by mail or other means. If the Free version only supports sending files up to 1GB, the licensed version can send up to 2GB (Lite version), 4GB (Professional version) and 8GB (Premium version). This will definitely give you an unprecedented data sharing experience.
2.10 ULTRA HD 4K RESOLUTION
With the Ultraviewer license, you will be able to control your computer and support customers remotely with sharper and clearer images. Text and image details are better displayed making the customer support experience more enjoyable.
2.11. SOUND SHARING
This feature will help you to share audio from one computer to another. In some cases, you want the controller to listen to some of the material on your computer, such as music, a tutorial, a recording of a lecture, a meeting, etc. Ultraviewer license will make your connection and remote support more intuitive and real than ever.
In conclusion, there are many great reasons for you to register and purchase an Ultraviewer license right now. With only the smallest and cheapest investment on the market today, you will have access to preeminent, high-end features that best support your work.