6
September
Are you often annoyed by slow remote connection process and frequent disconnections from AnyDesk? Do you feel insecure because of the policy of automatic renewal of copyright without notice? Are you looking for more effective, suitable, and free alternatives To Anydesk? We have created a list of 5 best free remote desktop tools. Let's explore the details in the article below.
1. What is AnyDesk?
Researched and developed by former TeamViewer developers, AnyDesk quickly attracted the attention of users thanks to its excellent performance. With AnyDesk, users can easily access, manage and control computers remotely via the internet with a high degree of stability. Some useful features for users like file transfer, remote printing, and console session recording.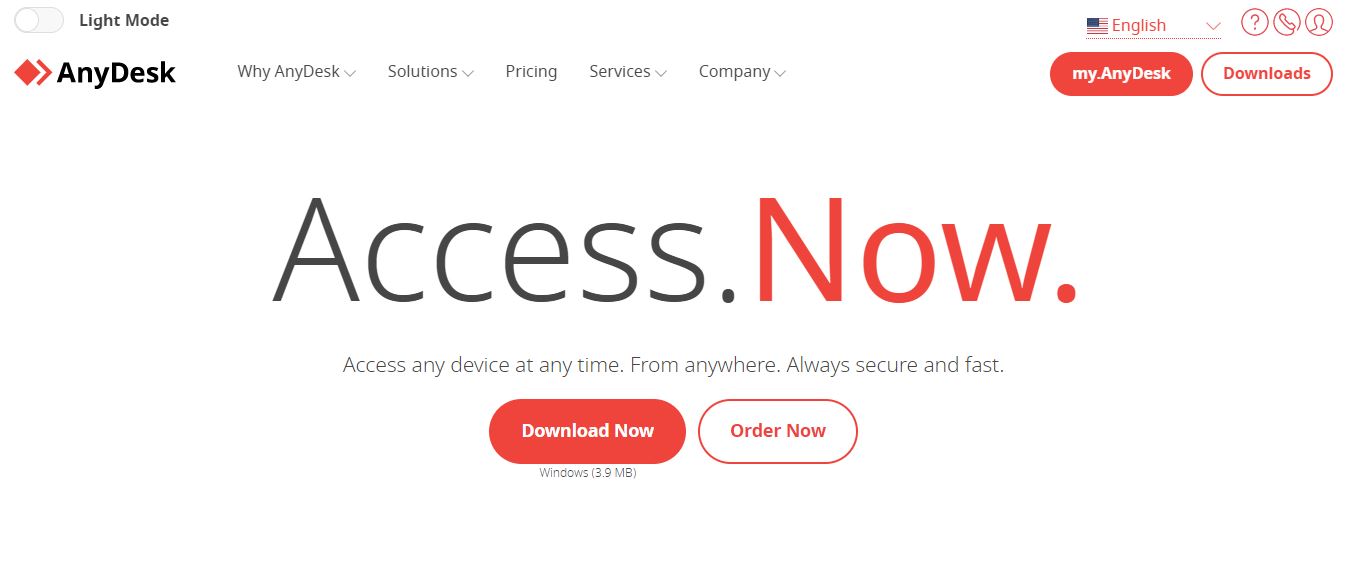 Currently, AnyDesk is allowing individual users to use it for free. You can use AnyDesk to provide remote technical support to parents, relatives or friends who need your help almost instantly at no cost. In addition, AnyDesk is also properly designed for professional remote customer support operations of companies providing computer repair or software installation services. However, if you want to use it for commercial purposes, you will have to buy a license package.
The outstanding advantages of AnyDesk:
- AnyDesk is compatible and works on multiple platforms: Linux, Windows operating systems, macOS, Windows Server, Raspberry Pi and FreeBSD, iOS, Android with accompanying mobile application to help users' remote work more smoothly.
- Light capacity: AnyDesk software has a fairly light capacity, so users can quickly download it to a computer or mobile device easily. This both saves system resources and ensures that your devices run more smoothly and efficiently.
- Easy to download and install on your computer without complicated registration information.
- AnyDesk possesses almost all the basic features of effective remote desktop software: screen sharing, remote access and connection, file management, remote printing, ..etc.
- Low latency: The process of accessing and controlling remotely through AnyDesk is considered to be low latency. Users can interact with the remote device as quickly as sitting directly in front of it without any interruption thanks to turbo DeskRT.
In addition, AnyDesk also provides more advanced features for professional license packages.
2. Why should you use free alternatives to Anydesk?
AnyDesk has been popular for a long time since its inception in 2014. As a competitor and alternative to TeamViewer, AnyDesk has brought users new experiences in remote file transfer speed, high flexibility and compatibility between devices, flexible cross-platform access... However, AnyDesk also has major problems that make customers unsatisfied and look for other alternatives. So why should you use the free alternatives to Anydesk?
Limited free policy
AnyDesk allows free use of the software for individual customers only and requires a fee for corporate and institutional customers. This will make it difficult for non-profit organizations or new start-ups to access and experience the solution to access and control remote computers. If you only need to use basic features and the financial situation of the company is not good to pay for remote access operations, it will be better that you should probably look for free Anydesk alternatives.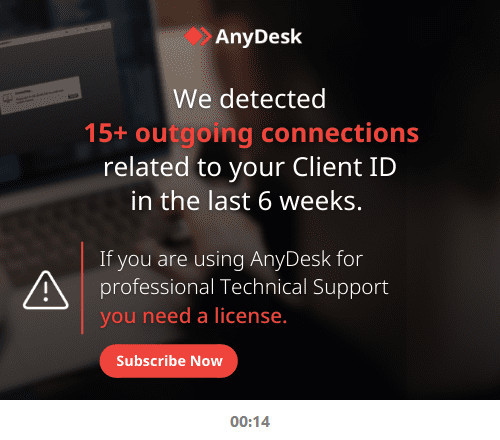 In addition, individual users of Anydesk also complained more about their suspected commercial use. It is entirely possible that Anydesk's system is mistaken when it detects the number of connections that they think is too much, even for personal purposes. The message pops up asking for a license to continue using the software and you will experience sudden disconnections, slower connections that make remote access uncomfortable and less effective. In addition, some essential features such as file sharing are not available in the free version of AnyDesk. Besides Anydesk users, a lot of users face the problem of "TeamViewer's free time limit"
AnyDesk's non-transparent renewal policy – Reason why you should use free alternatives to Anydesk
One of the worst user experiences of AnyDesk remote desktop software probably comes from the automatic renewal policy and lack of transparency. The notice of continuing to renew the software appears only 1 day before the end of the contract for using AnyDesk. And you will need to cancel at least 3 months - 90 days in advance for the cancellation to take effect. Any attempt to cancel renewals for less than 90 days will not be accepted and you will be reluctantly charged an automatic payment fee, even if you no longer want to continue using the product.
Many AnyDesk users even said that they were never aware of this renewal cancellation period, and they thought it was a hidden policy to take advantage of inattentive users. Absolutely no email prompts you to consider continuing or stopping using the service. Therefore, if you want to find more secure and transparent Anydesk alternatives free, that's completely understandable.
Difficult to reach customer support
On well-known technology forums like truspilot.com or getapp.com, you can easily come across any negative feedback from Anydesk users about the customer support they encounter. It can be difficult to reach the customer support department and get a quick response when sending an email support request asking for technical issues or canceling an extension.
On the other hand, support phone is virtually non-existent. The usual time to get a response like "we have received the information and will report back to the developers" will be about a week or more. Delayed support and response means that technical issues that cannot be fixed in a timely manner will have a direct impact on your remote access and support jobs. That's why you should start thinking about finding Anydesk free alternatives.
3. Top 5 Best Free Anydesk Alternatives
AnyDesk is one of the most famous remote desktop software in the world. However, not everyone is satisfied with the experience that AnyDesk brings. A lot of people are looking for the best Anydesk Alternative. And below is a list of alternative software that you can test today.
UltraViewer - Best Free Alternatives To Anydesk in 2023
UltraViewer is a top free alternative to Anydesk that you should own. If your usage needs are not too high, you can start to experience UltraViewer completely free of charge, without limits. UltraViewer is also rated as a great free alternative to TeamViewer.
UltraViewer implements an open and user-friendly free-use policy to all users in the world. Whether you are an individual user, business, organization, etc. using UltraViewer for personal or commercial purposes, you are allowed to use the software without any restrictions or unexpected fees. This is to help you have a long enough experience before deciding to upgrade to a license package with more advanced functions (if desired). On the other hand, UltraViewer also has no automatic renewal policy, which means you can stop copyright registration anytime you want without notice.
See also: Is UltraViewer safe?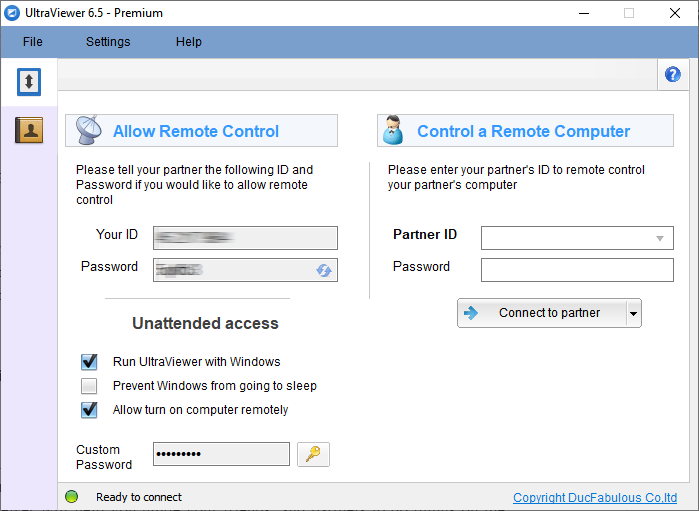 Main features of UltraViewer
- Light capacity, easy to download and install quickly
- Compatible with all Windows operating systems
- Friendly interface, easy to use for newbies
- Easily access and control remote desktops from anywhere
- High stability, minimizing the occurrence of lag, splash, jerky, connection loss, almost no delay when remote control
- Set up unattended access
- Smart chat feature, with chat prompts
- Monitor chat history, input and output connection history on the software
- Share heavy files quickly
- Share audio on PC
- Turn on the remote desktop without Wake On Lan
- Control session recording
Some disadvantages
- No mobile support yet
- Not compatible on other operating systems
You can download and try UltraViewer for free. UltraViewer's advanced license packages are also extremely affordable, from only $3.99/month.
Chrome Remote Desktop
Chrome Remote Desktop is an extension for the Chrome browser released for free by Google that allows you to connect devices and control your computer remotely. You can easily access remote files and work remotely smoothly. This is also a great AnyDesk alternative solution that you cannot ignore.
Advantages
- The interface is very simple and easy to use, supports multiple screens, used in full screen mode
- Works well and compatible on multiple operating systems: Windows, Linux, Mac, IOS, Android
- Regularly updated, supporting both unattended and spontaneous access
- Completely free during use
- The software is connected quickly, high security mode and safe for users
Some disadvantages
- The installation process is quite complicated for newbies. You'll need to do a bunch of things before you can use this app: Get the Chrome browser for your devices, download and install the Chrome Remote Desktop app, sign in to your Google account, enter the code shared from works, …
- No chat feature
- Need to configure firewall and router to not block UDP protocol if 2 devices are on different network lines.
LogMeIn Pro
LogMeIn Pro is a remote control software from the US. Designed and developed with a focus on professional remote support, LogMeIn is the right AnyDesk alternative for enterprise customers. If you are looking for a good support service and worth the royalties, LogMein will probably satisfy you.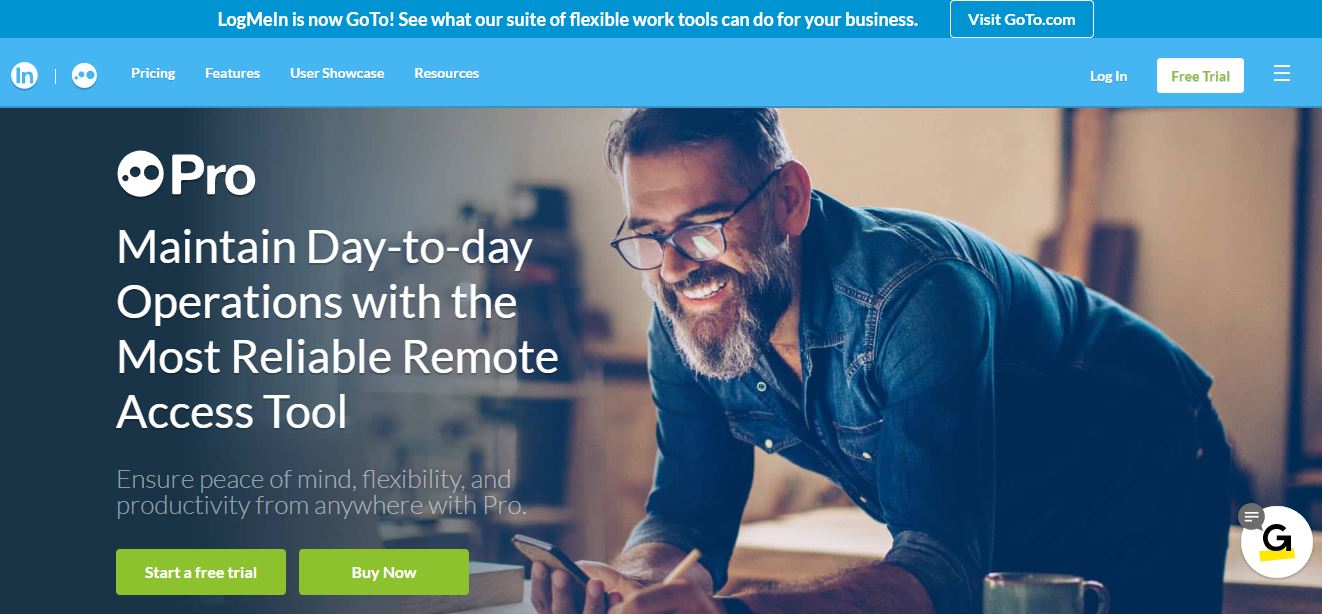 Advantages of LogMeIn Pro
- Fast connection speed, access and remote computer control.
- High level of security, helping to protect the computer safely, strongly prevent unauthorized objects from entering the system.
- Compatible and supports most operating systems: Windows, MacOS, iOS, Android and Blackberry...
- Other premium and professional features
Disadvantages
- There is no free version
- High cost, so it is difficult to reach individual users
- Long and complicated account registration process
Microsoft Remote Desktop
Microsoft Remote Desktop is a remote desktop software developed by Microsoft - the founder of the popular Windows operating system around the world. Microsoft Remote Desktop comes pre-installed on most versions of Windows and is a great free Anydesk alternative for remote Windows connections.
Advantages:
- Completely free and available on Windows operating system
- Easy to use app via IOS or Android phone
- Easily share data, audio and video transmission in good quality with high speed in all conditions of stable wifi quality
- Remote access and control operations are relatively smooth as if you were sitting in front of a remote PC
- High security mode and safe in the internal environment
Some disadvantages
- Only compatible with Windows operating system
- The PC setup process can be a bit complicated for remote PC connections outside the local network.
UltraVNC
UltraVNC is a popular remote PC software application for Windows computer users. This is also an alternative to Anydesk for those who are especially focused on the experience of data file transfer and interaction in the local remote connection session. UltraVNC is used for controlling your own computer more than for customer support.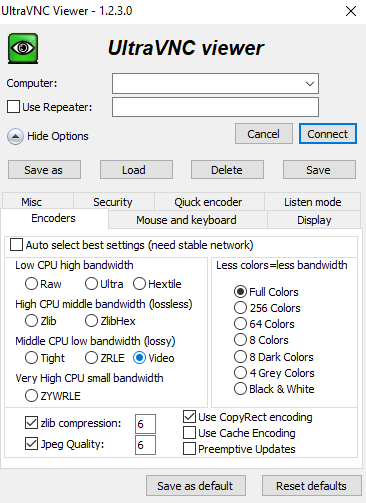 Advantages:
- Focus on developing more on exchange feature between devices: file sharing, clipboard sharing, messaging chat...
- Custom settings can be set as UtraVNC is an open source application
- Can be connected via browser, computer program and mobile application.
- Can boot and connect to the server in Safe Mode.
Disadvantages:
- The interface is still complicated
- There are many configuration steps that take time, so it is not suitable for customer support
- You must change your router for the software to work
- Not suitable for remote access which is not established in advance.
Thus, we have introduced you to the most popular and effective free Anydesk alternatives available today. Hopefully, this review has given you an unbiased perspective and helped you choose the solution that best suits your needs.
Besides, if you are still confused between options, UltraViewer is probably the most impressive, powerful and easy remote control solution for beginners and professional users interested in quality remote connections. In particular, the policy of allowing free use without limitation of time and purpose of use is a great basis to help you start your journey to experience it today. Download UltraViewer for free now.