13
September
Do you often use UltraViewer remote desktop software to support customers or work remotely but do not know how to use the software effectively? Let's find out more in the article below.
1. ULTRAVIEWER REMOTE DESKTOP SOFTWARE
UltraViewer is the most popular remote desktop application available today. Through an internet connection, you can support or receive information technology support such as computer troubleshooting, software installation, screen sharing, etc. easily and quickly.
Thanks to the remote control PC feature, you can completely optimize the working process to achieve the best efficiency, while saving a significant amount of costs for personnel, operation, transportation...
You can download and start experiencing UltraViewer software with a completely free version. Unlike Anydesk and TeamViewer, UltraViewer allows free use without limitation of time, purpose and object. Regardless of whether you are an individual or a business, commercial or non-commercial use, you are allowed to control your remote computer for free without sudden disconnection.
2. HOW TO CONTROL A REMOTE COMPUTER WITH ULTRAVIEWER
After successful installation, to be able to connect and control the computer remotely via Ultraviewer, follow the instructions as follows:
Ask the partner to send you the ID and Password recorded on their Ultraviewer software to you. Next, enter the partner's IP and Password into the software and click Start Connection.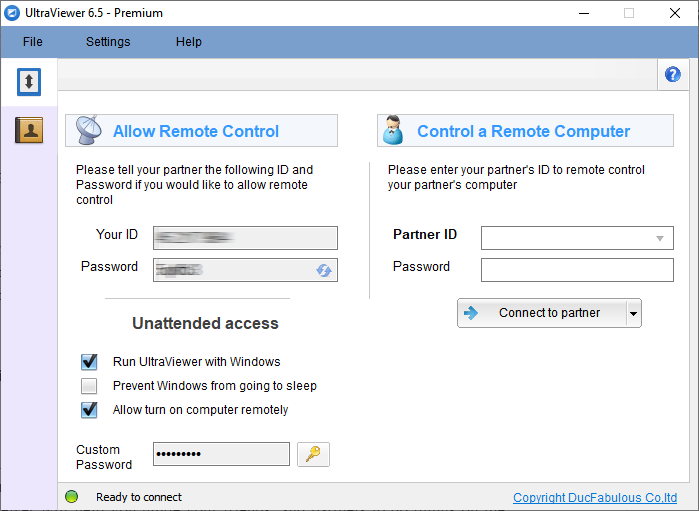 At that time, the window of the partner's computer screen will appear on the screen of your device. Now you completely control your partner's computer right on your desktop. On the contrary, if you are the controlled person, give them your software ID and Password so they can initiate the remote access process.
Unattended access
In case you often need to remotely control a computer from a fixed device, you can set up the computer with a separate password on the UltraViewer software for unattended access. As a result, you won't need to ask for an ID and password every time you visit.
To pause remote desktop control through UltraViewer, you just need to turn off the UltraViewer software on your device then the partner can no longer control your computer.
3. 5 IMPORTANT FEATURES OF ULTRAVIEWER REMOTE DESKTOP SOFTWARE
SMART CHAT FEATURES
If you often have to support customers remotely, then you probably feel quite bored when you have to manually type familiar words, repeating every day. To help you save time and increase work efficiency, UltraViewer has improved the smart chat feature that has the ability to prompt super chat messages that you rarely find in any remote desktop software.
CHAT PROMPT FEATURE
The smart chat feature works on an automatic mechanism that gives suggested sentence patterns when you are chatting based on past data and learns what you have chatted before. Therefore, when the suggestion appears, you just need to press Tab to complete the chat without having to type the whole sentence.
To chat quickly with your partner, press the F1 button, the chat window will pop up and you can chat very conveniently. When not using the chat window, you can press F1 again to turn it off. You can review the chat history at any time because it will be automatically saved as a text file on your computer.
FILE TRANSFER FEATURES
In the process of working remotely, sometimes you will need to use the feature to transfer data files from one computer to another. With the free version of UltraViewer, you can send/receive files under 1GB quickly. If you want to send a larger file (a long video, a software installer, etc.), you will need to compress the entire file or folder as a .zip/.rar extension or send the file via mail or other forms.
But this will definitely take up a lot of time and interrupt your work when you can't send heavy files immediately. You absolutely do not want to be in a situation where you are waiting for a file transfer then receive a message that the execution failed, right?
To support transferring heavy files, you can upgrade to UltraViewer copyright for the most convenient file transfer process. Depending on different license packages, you can send files with a corresponding weight of up to 2 - 4 - 8 GB.
TURN ON REMOTE DESKTOP FEATURES
Turn on remote desktop is a great feature that makes controlling your remote desktop more convenient than ever. You can work from home or anywhere you want, even when your desktop at work is on or in sleep mode.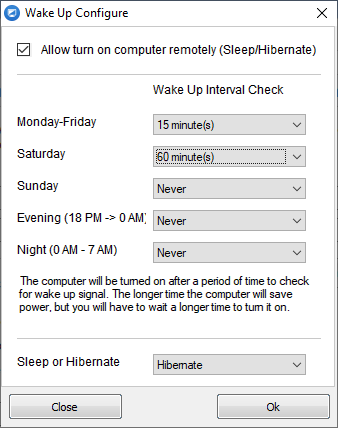 Configuring the Power On Test Cycle
The turn on remote desktop feature also promotes its flexibility and usefulness in many emergency access situations such as immediate system failure without having to waste time moving or interrupting other work workflows.
In particular, you also do not need to have a person who specializes in monitoring and timing the computer's power on to help you access it remotely. This not only reduces staffing costs, but also increases energy efficiency as the remote desktop is only turned on when you're doing an access pending order that doesn't need to be active throughout the day.
Read more: How to set up Turn On PC remotely on UltraViewer
ONLINE CONTACT FEATURES
If you are a technician specializing in remote access and regular customer support, the Online contact feature will make your work more scientific and easier to do. You will not need to ask dozens or even hundreds of customers to provide computer ID/password and re-enter to connect every day.
You just need to save the list of available computers on the Online directory feature of the UltraViewer remote desktop software. Thanks to that, you can click on the computer name in the list and connect immediately every time you exercise remote access.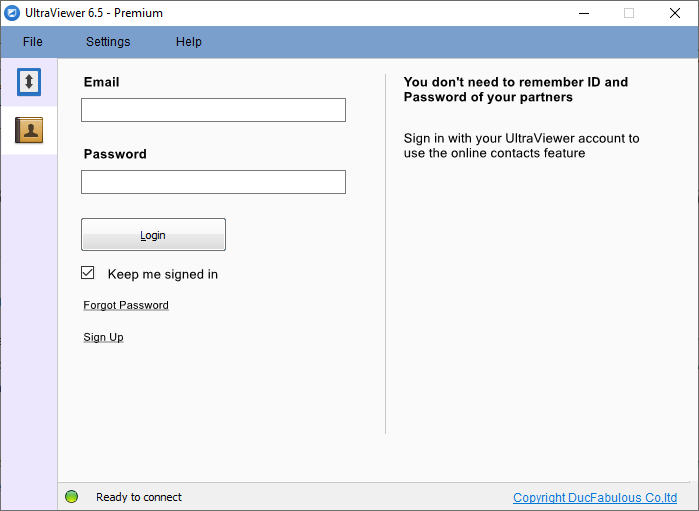 In addition, the online contacts feature also informs you which computer has just opened or is opening the UltraVIewer remote desktop software to connect when needed. Therefore, you can be proactive in arranging control and connecting the list of computers that need support in the most convenient and easy way.
LISTEN TO SOUND ON A COMPUTER REMOTE
This is one of the indispensable features in the process of controlling your computer remotely and is related to the sound element. Some remote jobs that need to listen to audio on the computer are common such as: remote online learning, fixing audio errors on the computer, television editing, sharing recording files, editing video files containing audio... With clear and realistic sound, controlling and accessing your remote computer will be more enjoyable and ideal than ever.
To use the sound listening feature on a remote computer, you need to update to the latest version of UltraViewer, and at the same time proceed to purchase a license to UltraViewer Professional to use the above feature.
In addition, if you are a business and want to impress your customers with your company brand, you can also create your own version of Quick Support.
So you have just discovered the outstanding and indispensable features in the process of remote computer control. In the coming time, the manufacturer will continue to upgrade the software and release more quality new features. If you have not used UltraViewer software or are looking for an alternative to TeamViewer, download now and experience the latest version of UltraViewer for free.