10
April
Are you Tired of always sitting in front of the computer? Do you want to access your PC from anywhere in the world? Well, now you can! With UltraViewer, you can easily access your computer remotely and control it from anywhere in the world.
Reasons why you need to access your computer remotely:
Accessing your computer remotely can be very useful in many situations. Here are some reasons why you might need to access your PC remotely:
Work from home: Many people have started working from home due to the pandemic, and accessing their work computer remotely can be very helpful in this situation.
Troubleshooting: If your family member or friend needs help with their computer, you can access their PC remotely and fix the problem without being physically present.
Access files from anywhere: If you have important files on your PC, you can access them from anywhere in the world if you have remote access.
Backup and restore: Remote Access also allows you to backup and restore your PC remotely in the event of any problems.
All in all, access to your PC remotely can save you time and effort and can be very convenient in many situations.
How to access your computer remotely?
Step 1: Download and install UltraViewer
The first step is to download UltraViewer on both the computer you want to access remotely and the computer you will use to access it. Visit the official UltraViewer website and download the appropriate version for your computer's operating system. Once downloaded, follow the instructions to install it on both computers. Please note that UltraViewer is currently only available for computers using the Windows operating system.
Step 2: Set Up Your Remote PC for Access
Now that you have UltraViewer installed on both computers, you need to configure the computer that you want to access remotely. Launch UltraViewer on that computer and click on the "Run UltraViewer with Windows" and "Prevent Windows from going to sleep" options. For the "Allow turn on computer remotely" option, you need an UltraViewer Lite license to use this feature. With just one click, you can access your pc remotely without having to do complicated Wake On Lan configurations and support from someone else.
After that, you need to do the "Wake up Configure" setup that we instructed in the article "How to set up Turn On PC remotely on UltraViewer"
Next, click the golden key icon for the "Custom Password" section to set a unique password for your computer remotely. This password will be used whenever you try to access your own remote computer.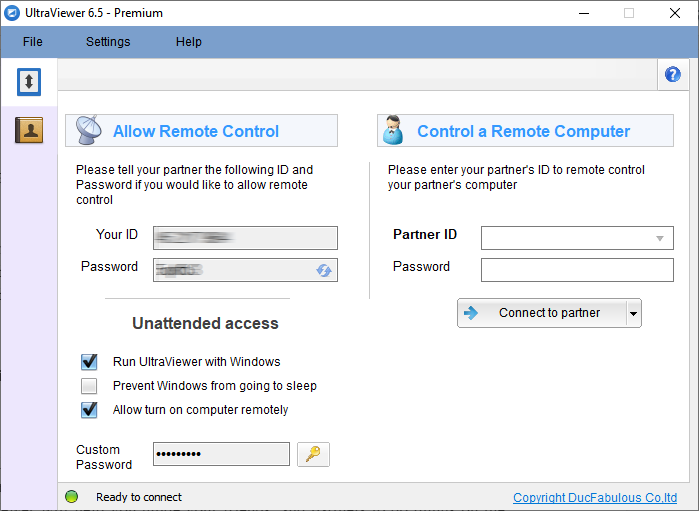 Step 3: Access the remote computer
Now that you've set up the remote PC for access, it's time to access it. On the computer that you will use to access the remote desktop, launch UltraViewer and enter the remote computer's ID. You can find this ID on the UltraViewer window of the remote computer. At the same time, you enter the private password created in the previous step. Once you have entered enough information, click the "Connect to partner" button.
If everything is set up correctly, you need to wait a little while for the remote desktop to turn on for the amount of time you set in "Wake up Configure". You will now have access to your remote computer and be able to control it just as if you were sitting in front of it.
Also, if you are interested in how to automatically connect to Anydesk without accepting it, do not skip this article about unattended access.
Conclusion
As you can see, accessing your computer remotely using UltraViewer is pretty easy. With just a few simple taps, you can access your PC from anywhere in the world and control it as if you were sitting in front of it. What are you waiting for? Download UltraViewer today and start accessing your desktop remotely!