24
May
AnyDesk is a popular remote computer control software in the world today. One of its standout features is its ability to automatically connect without acceptance, providing users with instant access to remote devices. In this article, we will guide you through the process of setting up AnyDesk's unattended access feature, allowing you to establish remote connections easily.
Step 1: Download and Install AnyDesk:
Start by visiting the official AnyDesk website (www.anydesk.com) and download the appropriate version of AnyDesk for your operating system. Once the download is complete, run the installer and follow the on-screen instructions to install AnyDesk on your computer.
Step 2: Launch AnyDesk and Configure Unattended Access: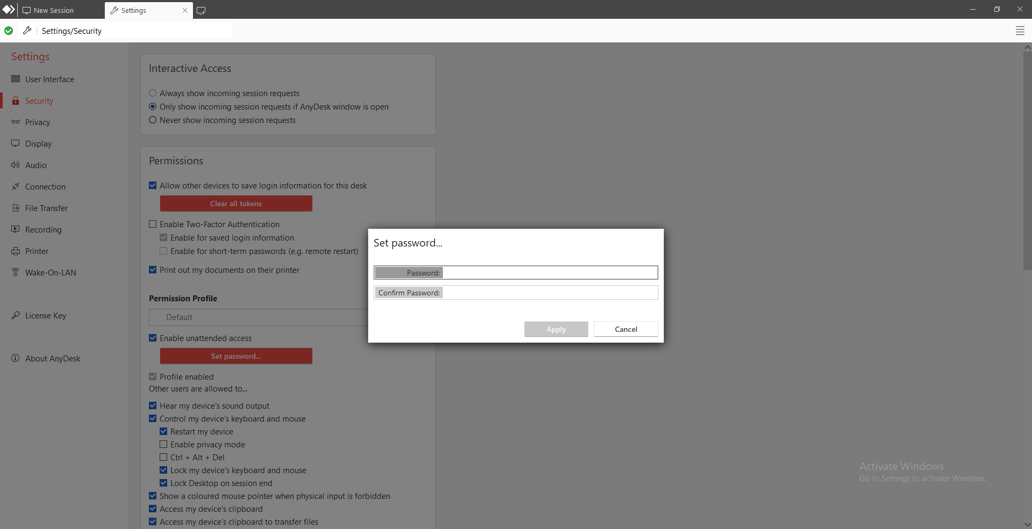 Open AnyDesk on your computer by double-clicking the desktop icon or searching for it in the Start menu.

In the AnyDesk main window, you will find your AnyDesk address, which consists of a series of numbers. Take note of this address as it will be required for remote connections.

Click on the "Settings" option in the left sidebar to access the AnyDesk settings menu.

In the settings menu, navigate to the "Security" tab.

Under the "Security" tab, you will find the "Unattended Access" section. Enable the "Enable unattended access" checkbox.

To enhance security, set a strong password for unattended access. Click on the "Set Password" button and enter a password of your choice. Make sure to use a combination of uppercase and lowercase letters, numbers, and special characters.

Click "OK" or "Apply" to save the changes.
Step 3: Granting Access to Remote Devices:
To auto connect AnyDesk without accept, you need to grant access to the remote device beforehand. Follow these steps to grant access to specific devices:
Obtain the AnyDesk address of the remote device you want to connect to. The user of the remote device should provide you with their AnyDesk address.

Open AnyDesk on your computer.

Click on the "Remote Desk" option in the AnyDesk main window.

Enter the AnyDesk address of the remote device in the "Remote Desk" field.

Click the green "Connect" button to initiate the connection.

If prompted, enter the password you set for unattended access.

Once the connection is established, you can now access the remote device without manual acceptance.
Note: Ensure that you have the necessary permissions and authorization to access the remote device. Respect the privacy and security of remote devices and only connect to trusted devices.
If you're struggling to auto connect AnyDesk without acceptance, there's an alternative solution available with UltraViewer software. UltraViewer offers the same feature, allowing you to effortlessly set up remote computer access without relying on others. Step-by-step instructions on how to access your PC remotely using UltraViewer can be found in the article "How to access my PC remotely?". With UltraViewer, you can enjoy convenient and efficient remote access capabilities for various purposes, including remote support, collaboration, and file sharing. Don't hesitate to download UltraViewer for free and give it a try today.