28
September
Free remote desktop software like AnyDesk has become essential for businesses and individuals, allowing seamless access to computers from anywhere. However, sometimes users encounter a common issue: "AnyDesk Not Connected to Server". In this article, we'll explore the possible causes of this problem and provide practical troubleshooting steps to resolve it.
Why is AnyDesk Not Connected to the Server?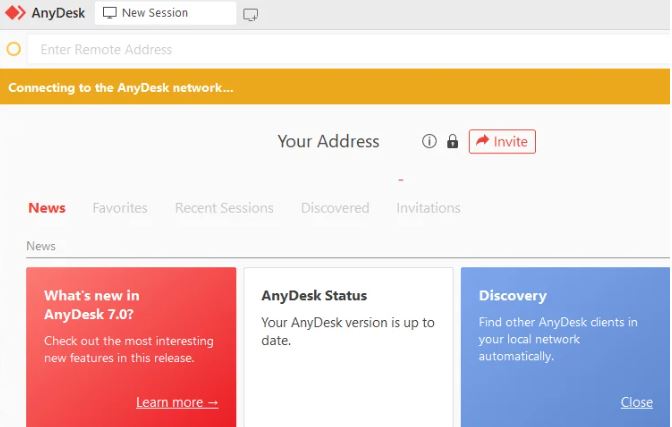 Before we delve into the solutions, let's take a closer look at the underlying reasons why you might encounter the "AnyDesk Is Not Connected to the Server" issue. Understanding these causes is the first step in resolving this problem effectively:
Network Connectivity Problems
Internet Connection Issues: The most prevalent cause of this problem is an unstable or completely non-functional internet connection. It's essential to ensure that your internet connection is active and performing correctly.
Firewall or Security Software Blocking AnyDesk: Firewalls and security software can sometimes obstruct AnyDesk's connection. To resolve this, inspect your security settings and make sure that AnyDesk is granted permission to establish connections.
AnyDesk Software-Related Causes
Outdated AnyDesk Version: Operating an outdated version of AnyDesk can lead to connectivity problems. It is crucial to ensure that you are running the latest version of AnyDesk, which can be obtained from the official website.
Configuration Settings: Incorrect configuration settings can disrupt the connection between AnyDesk and the server. To address this, review and validate your configuration settings to ensure they are accurate.
Server-Side Problems
Server Maintenance or Downtime: Occasionally, the AnyDesk server may undergo maintenance or experience temporary downtime. It's advisable to check AnyDesk's official status page for real-time updates on server status.
AnyDesk Server Issues: In rare instances, server-related problems may be the root cause of connection issues. If this is the case, you can contact AnyDesk support for professional assistance.
How to fix "AnyDesk Not Connected to Server"
Now that we have a comprehensive understanding of the potential causes, let's explore a series of systematic steps to resolve this issue:
Checking Network Connectivity
Test Internet Connection Stability: Begin by ensuring the stability of your internet connection. Open a web browser or use other online services to verify that your internet connection is working as expected. A stable and active internet connection is crucial for successful AnyDesk connections.
Review Firewall and Security Settings: Carefully examine your computer's firewall and security software settings. It's essential to confirm that AnyDesk is explicitly permitted to establish connections through these security layers. Check for any rules or configurations that might be blocking AnyDesk's access.
Verifying AnyDesk Software Settings
Update AnyDesk to the Latest Version: To avoid compatibility issues, it's vital to keep your AnyDesk software up to date. Visit AnyDesk's official website and download the latest version. Install it following the provided instructions to ensure you are running the most recent release.
Review Configuration Settings: Take a close look at your AnyDesk configuration settings. Verify that they align with the recommended settings for seamless connections. Pay attention to settings related to authentication, permissions, and access controls. Ensure that they are correctly configured.
Server-Side Checks
Verify AnyDesk Server Status: To rule out server-related issues, visit AnyDesk's official status page. This resource provides real-time information about the current server status and uptime. Check if there are any ongoing server maintenance or disruptions reported.
Contact AnyDesk Support (If Necessary): If you continue to experience connectivity problems and suspect server-related issues, it's advisable to reach out to AnyDesk support for expert assistance. They can provide guidance and solutions tailored to your specific situation.
By following these detailed troubleshooting steps, you can effectively address the "AnyDesk Not Connected to Server" issue, ensuring a smoother and more reliable remote desktop experience.
Tips to Prevent Future Connectivity Issues
To proactively avoid encountering "AnyDesk Is Not Connected to the Server" problems in the future, follow these tips:
Regularly update your AnyDesk software to the latest version available on the official website.

Ensure that you maintain a stable and reliable internet connection, addressing any connectivity issues promptly.

Keep your firewall and security software configurations up to date, making certain that AnyDesk has the necessary permissions.

Stay informed about AnyDesk server status, particularly during scheduled maintenance periods, by monitoring their official status page for any ongoing maintenance or disruptions.
We hope this comprehensive guide has been instrumental in resolving your AnyDesk connectivity issues. While encountering "AnyDesk Not Connected to Server" can be frustrating, it's usually solvable by addressing network issues, software configurations, or checking server status. By following the troubleshooting steps outlined here, you can enjoy uninterrupted remote access with AnyDesk. Additionally, you can refer to the article on how to fix "Anydesk audio not working".
However, if you're looking for an alternative remote desktop solution, we recommend trying UltraViewer. UltraViewer offers similar features, including unattended access, and is easy to use. Download UltraViewer now and experience its benefits for yourself!