6
April
Besides TeamViewer and Anydesk, one of the most popular and oldest remote desktop solutions today is LogMeIn. However, the free version of LogMeIn is no longer available, which may lead users to look for a free alternative to LogMeIn. Luckily, there's a great alternative that's both free and easy to use: UltraViewer.

What is LogMeIn?
LogMeIn is remote access software that allows users to remotely access computers and other devices from anywhere with an internet connection. It was first launched in 2003 and has since become a popular tool for remote work, remote support, and online meetings.
With LogMeIn, users can securely connect to remote devices, access files, run applications, and control desktops as if they were sitting in front of them. The software provides various features and tools, including screen sharing, file transfer, remote printing, and chat functionality. LogMeIn is available for both personal and business use, with different pricing plans depending on user needs.

Is Logmein free? Why use a LogMeIn free alternative?
LogMeIn Pro does not offer a free plan
Is logmein free for personal use? Unfortunately, LogMeIn's free version is no longer available. They have transitioned to a paid-only model, which means users will need to subscribe to one of their paid plans to access their services. While there are many alternatives to LogMeIn Pro that offer unlimited or long-term free plans, LogMeIn Pro only offers a free trial that lasts for 14 days, and users are required to provide their payment information to access it. This is a significant drawback of LogMeIn Pro.
LogMeIn license costs are very high
LogMein Pro does not offer a free plan, requiring users to pay for access. The individual user plan costs $349.99/year for access to up to 2 computers. For access to up to 5 computers, the Power Users Plan is available for $839.99/year. The Small Business Plan, which provides access to up to 10 computers, starts at $1,539.99/year.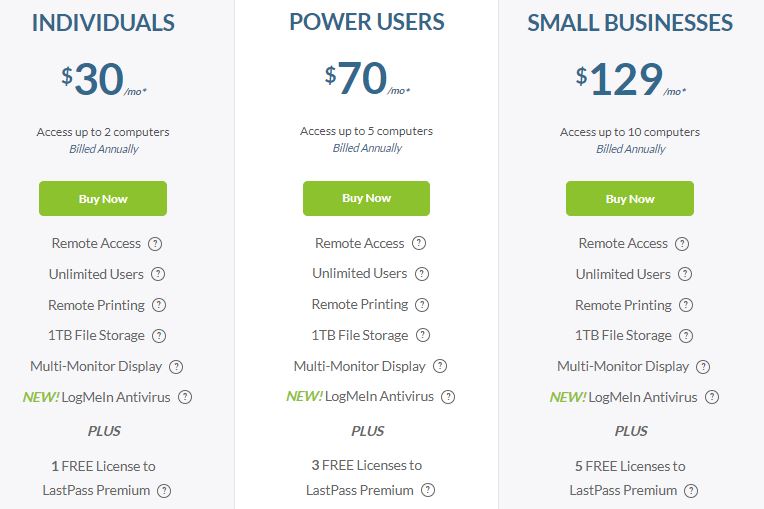 Use UltraViewer - the best LogMeIn free alternative
Are you an individual user and a small business with a limited budget? Are you looking for a simple, easy to use, and low cost remote access and support solution? Want a free LogMein alternative? UltraViewer is probably all you need right now.
UltraViewer offers an unlimited free version
UltraViewer is a free remote desktop software that offers a range of basic features comparable to those of LogMeIn. UltraViewer allows free use for personal and commercial users, with no restrictions on the purpose and duration of use.
For starters, UltraViewer is easy to download and install, and it can be used on Windows computers. In addition, UltraViewer allows you to connect to any Windows computer in the world, as long as it is running the UltraViewer application.
UltraViewer is easy to install and use
One of the biggest benefits of UltraViewer is its simplicity. With UltraViewer, you can quickly and easily connect to a remote computer without complicated installation or configuration. In addition, UltraViewer's interface is user-friendly, making it easy to navigate and use even if you are unfamiliar with the remote desktop software.
License costs are much lower than LogMeIn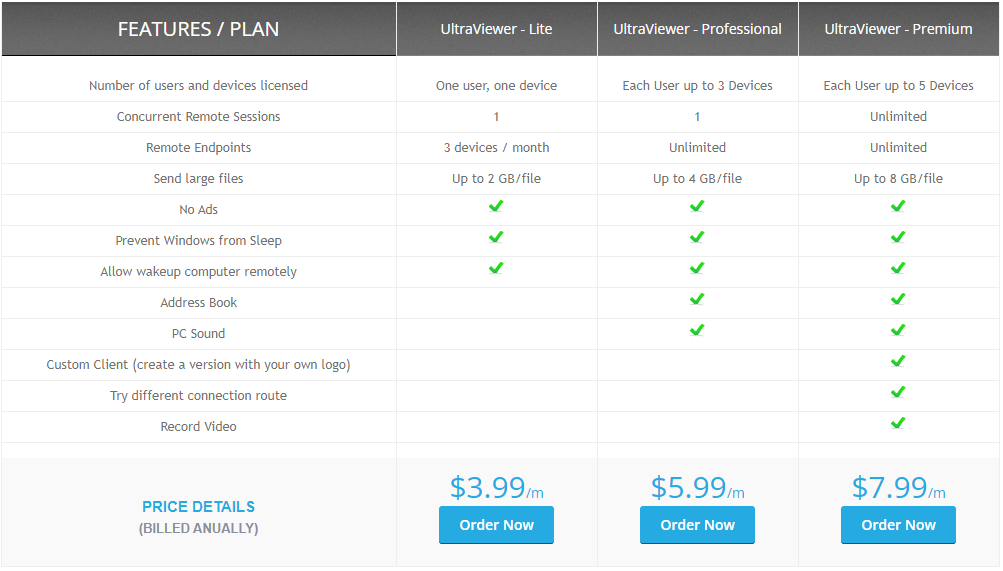 UltraViewer offers 3 options for premium users for advanced features. The UltraViewer Lite plan costs $47.88/year for control of up to 3 devices per month. In the Professional plan ($71.88/year) and Premium plan ($95.88/year), users are allowed to access an unlimited number of remote devices per month. In addition, the most advanced plan allows users to create unlimited simultaneous connections. That's why UltraViewer is the best LogMeIn free alternative.

Important Features of UltraViewer
Besides the main feature of accessing and controlling the computer remotely, UltraViewer also offers a range of features designed to make the remote support session more efficient. For example, UltraViewer allows you to transfer large files between your computer and the remote computer, which can be useful if you need to share documents or other files with a remote team member. In addition, UltraViewer also provides an Address Book feature to help manage a large number of computers remotely. Some UltraViewer advanced features such as listening to computer audio, recording screen video, supporting 4K resolution, and increasing control speed ...
To sum up, while LogMeIn may no longer offer a free version, UltraViewer is a great free alternative to LogMeIn that provides all the important features and security you need for your desktop needs. far away. With its affordable cost, ease of use, and user-friendly policy, UltraViewer is a great choice for anyone who needs reliable and free remote desktop software. So why not try downloading UltraViewer today and see how it can help you with your remote desktop control needs?