10
February
Remote computer software has become an essential tool for individuals and businesses today. With the rise of remote work, many are searching for cost-effective alternatives to popular software such as TeamViewer and Anydesk. With the declining economy and rising inflation, it's crucial to consider a remote computer solution that saves money for your business while still fulfilling your needs.
1. Overview of Remote Computer Software
Remote computer software allows control of a computer from another device, providing remote access anywhere with an internet connection. This feature is beneficial for companies with remote employees, travelers, and those who need to access their work computer from home or while traveling.
There are various types of remote computer control software, ranging from free to expensive. The most widely used software solutions today are TeamViewer and Anydesk, known for their high quality, multi-monitor support, file transfer, and encrypted data transmission.
However, these solutions can be costly, especially for businesses. Although they offer free use for personal purposes, frequent remote connections can trigger suspicions of commercial use and result in connection cuts, time limits, or blocks. To continue using the software, a license purchase is required. The personal license for TeamViewer starts at $300/person/year, while the TeamViewer Premium License costs over $1200/year and the TeamViewer Corporate License costs more than $2400/year. Anydesk's licensing fee is more reasonable but still relatively high for those with low budgets.
2. UltraViewer: An Effective and Affordable Alternative to TeamViewer and Anydesk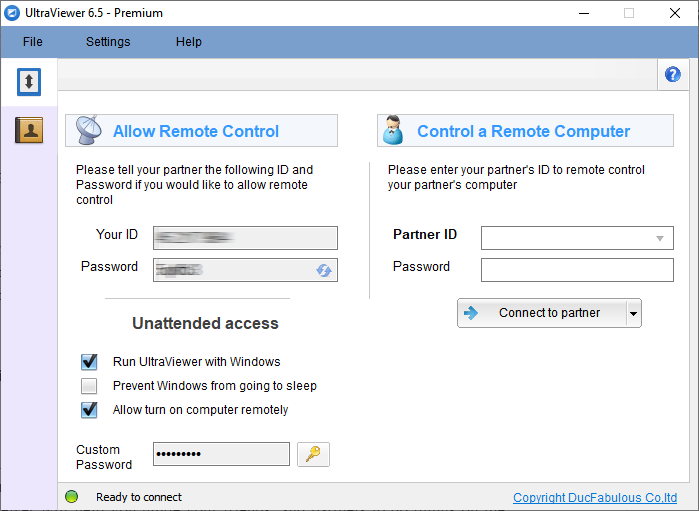 UltraViewer is a remote computer control software that provides similar features to TeamViewer and Anydesk at a more affordable price. This software is completely free to use, with no restrictions on usage, making it suitable for personal and business users alike. For those who require advanced features, the cost is significantly cheaper compared to other solutions like TeamViewer and Anydesk.
UltraViewer's cost-effectiveness is a key advantage, offering three paid license packages, including UltraViewer Lite ($45.88/year), UltraViewer Professional ($71.88/year), and UltraViewer Premium ($95.88/year). With the UltraViewer Premium version, unlimited simultaneous remote connections can be made without incurring extra costs, making it a great option for businesses with limited budgets.
3. Key Features of UltraViewer
UltraViewer offers numerous features that make it a strong alternative to expensive remote computer software. Some of its key features include:
- User-friendly: UltraViewer is user-friendly, even for those with limited computer experience or knowledge of remote computer software. The simple interface is easy to navigate, allowing you to start using it right away.
- High performance: UltraViewer provides fast and smooth connections, even with multiple concurrent remote connections.
- Secure: All data transmitted between devices is encrypted, ensuring the protection of your data from prying eyes and network threats.
- Intelligent chat feature: To save time and increase work efficiency, UltraViewer has improved its intelligent chat feature, with the ability to recall frequently used messages, a rare feature in remote computer control software.
- File transfer: UltraViewer allows for quick and easy file transfer of up to 2-4-8 GB, making work more efficient.
In conclusion, UltraViewer is a cost-effective alternative to popular remote computer software such as TeamViewer and Anydesk, offering businesses the chance to save money while still accessing the necessary features to manage remote work. With its user-friendly interface, secure data transfer, support for multiple platforms and high performance, UltraViewer is an excellent choice for businesses looking for a remote computer solution that meets their needs without costing too much.