23
September
Notice :
This version is stil in beta. We're temporarily not put it on the
Download button
at our homepage. You can download it at this link :
http://ultraviewer.net/en/UltraViewer_setup_5.1_en.exe
. After a few days testing later, if everything going well we will replace the version 5.0.28 of our homepage to this version.
This is what's new on the version 5.1 ( we've stopped calling this -
version 6.0
because we want to do far more on version 6.0):
1. Send Keystroke : Ctrl + Alt + Del
We have successfully integrated the ability to send Ctrl + Alt + Del. You can do this by right click on the remote computer in the chat panel, and select
Keystroke > Ctrl + Alt + Del.
(This feature requires both computer using version 5.1 and the above)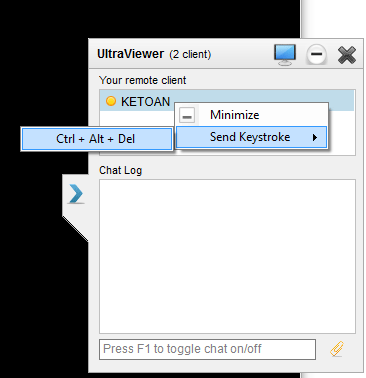 2. Log on, log off, switch user, And chat on Winlogon.
UltraViewer now can easily log on, log off, switch user. You can also chat on Winlogon.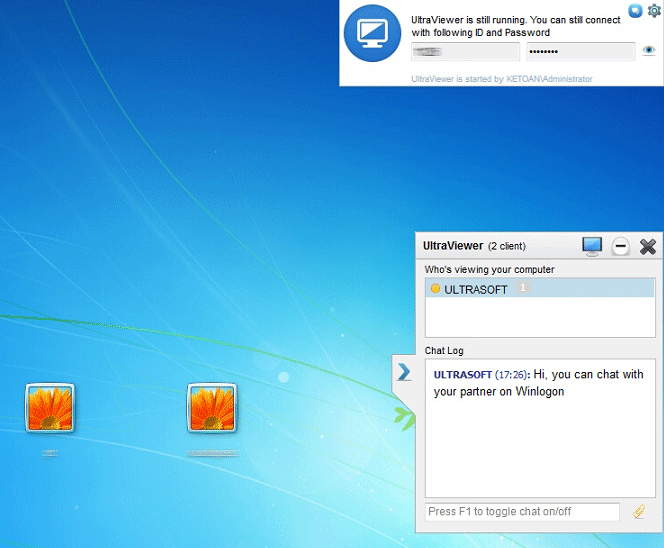 You will see a small notice panel on the Winlogon screen indicate that UltraViewer is still running or not. This help you to easily logon to the Winlogon screen or protect you from mistakenly not closing UltraVIewer after your partner support you.


3. Start with Window
UltraViewer is now able to start with Window. And with the combine of ''Private custom password' feature, as many called this 'Unattended access' feature. You can go to
Setting > Options > Access
and tick on Run UltraViewer with Windows if you want to turn it on.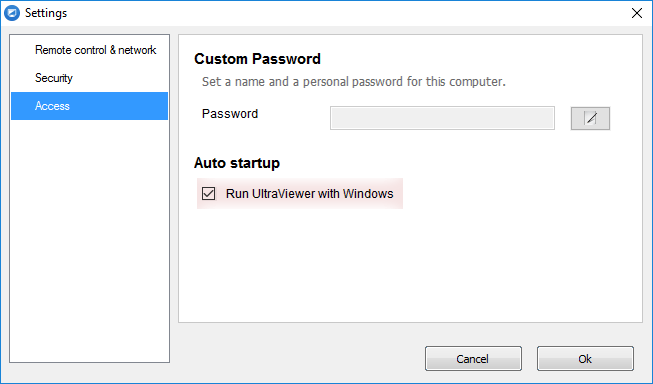 4. Fully SSL Encrypted
UltraViewer is now fully SSL encrypted. All datas sending to your partners are encrypted with 128 bit AES Encryption.
This will protect your privacy and and protect you from third parties sniffing/eavesdropping your signal.

5. Minimize to the System tray.
UltraViewer is now able to minimize to the System Tray, so you won't worry when mistakenly click on the (X) button, UltraViewer won't exit immediately and just minimize to the system tray.

You can re-show UltraViewer after minimize by double click on the UltraViewer icon or right click and select > Show UltraViewer.
You can change this setting by go to Settings
> Security.
6. Change Password length, Reset, Disable Random Pasword
You can now change the password length ( from 4 random numeric for easy remote support , to 6 -> 8 digit and characters for securely anti brute-force)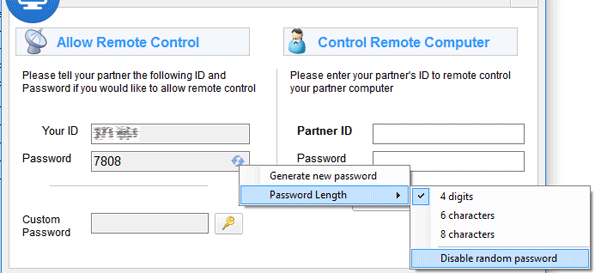 - You can also disable random password if you want to temporarilly disable UltraViewer or just want to connect using your
Private Custom Password
.
- You can generate a new password easily without restart UltraViewer.
8. Anti Brute-Force
You will receive this notify if you have an usual activity look like Brute force . This module will block you from 5->30 minutes if it see you're doing a suspect activity like input password wrong too many times continously.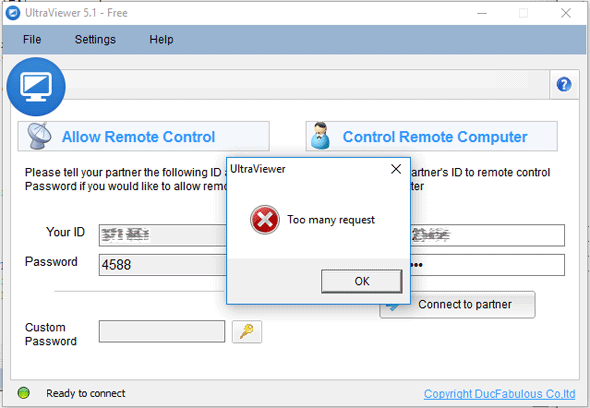 If you're using older version and try to brute force, you just receive an error: "Unknown error" .
9. Connection more stable
We've re-built our server to parallel model to make the connection more stable. If any server go down, UltraViewer will automatic connect to the another to keep the connection working. This will prevent down time for us and prevent down time for you to make your work stability.
10. Fix Disconnect while sending file issue
The disconnect issue while sending file is now gone.
11. Fixed some security issues
Special thanks to Zamis Clark - a security researcher from England and slipstream/RoL team for their kind support. They report some security issues to us so we have fixed them on this version.
12. And fixed many issues
Many other issues has been fixed on this version.
Because this version is a new release, if you receive any issues with it, please don't hesitate to email us - support@ultraviewer.net . Thank you very much for your support!