16
October
In today's interconnected world, protecting your online privacy and data security is paramount. One of the most effective tools for achieving this is by setting up a Virtual Private Network (VPN) on your Windows computer. In this comprehensive guide, we will walk you through the process of selecting, installing, and configuring a VPN service on your Windows operating system.
1. Choosing a VPN Service
Selecting the right VPN provider is crucial for online privacy and security. Research the VPN's reputation through user reviews and recommendations. The number and distribution of server locations impact your connectivity options and content access.
Prioritize providers with robust security protocols like OpenVPN, strong encryption standards (e.g., AES-256), and a strict no-logs policy. Ensure the VPN offers fast, consistent speeds and has a user-friendly interface, especially for beginners. Accessible customer support and pricing alignment with your budget are vital. Consider free trials or money-back guarantees for risk-free testing before committing to a long-term plan.
2. Purchasing and Installing a VPN for Windows
Once you've selected the right VPN service, it's time to purchase a subscription. Most providers offer various subscription plans, including monthly and yearly options. After subscribing, download the VPN client for Windows from the provider's website. The installation process typically involves running the downloaded file and following the on-screen instructions.
3. Configuring VPN Settings
Upon successful installation, launch the VPN application and log in using your provided credentials.
Choosing Settings > Network & Internet > VPN > Add a VPN connection. Please fill in all necessary information that you need to configure.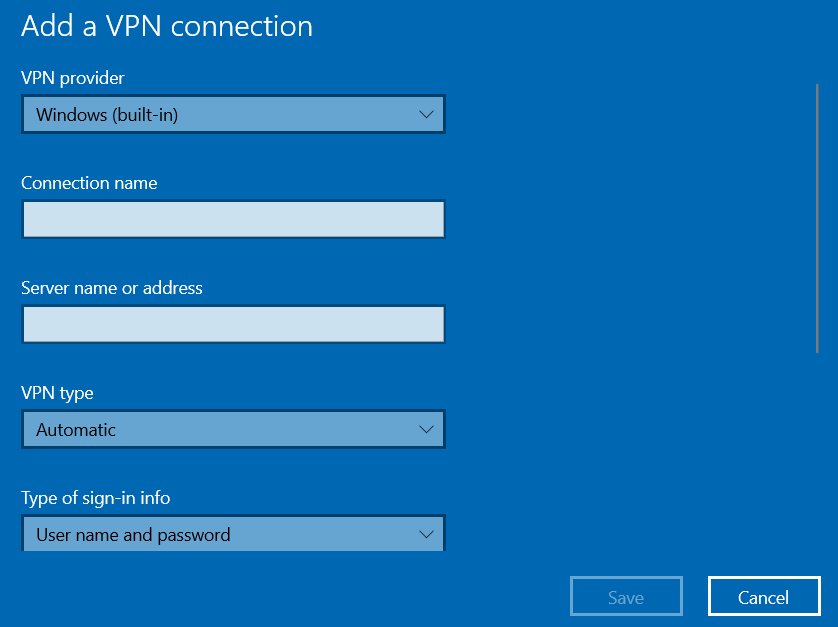 Next, select a server location. While many users opt for the default "Best Available" option, others may choose a specific server for reasons such as faster speeds or bypassing geo-restrictions. Additionally, explore advanced settings like a kill switch, which ensures your data remains secure even if the VPN connection drops, and split tunneling, allowing you to use both VPN and non-VPN connections simultaneously.
4. Connecting to the VPN
To initiate the VPN connection, simply click the "Connect" button within the VPN client. Your Windows computer will establish a secure connection with the chosen server. While most users rely on the recommended settings, it's worth mentioning that some VPN providers offer different protocols like OpenVPN or IKEv2. These can be selected based on your specific needs, whether it's speed, security, or both.
5. Testing the VPN Connection on Windows
After connecting to the VPN server, it's crucial to ensure that the VPN is functioning correctly. Verify that your IP address and location have changed. In addition, conduct a DNS leak test to confirm that your DNS queries are not exposed. Several online tools and websites can assist in performing these tests.
6. Troubleshooting Common VPN Issues
In some cases, users might encounter common VPN issues, such as slow connection speeds, unexpected drops in connection, or login problems. We discuss solutions to these issues, such as connecting to a different server, checking for software conflicts, and verifying your login credentials.
7. Using the VPN
With your VPN now configured and operational, you can experience the benefits of secure and private online browsing. Learn how to access the internet through your VPN connection and discover the advantages of using a VPN, including enhanced security, anonymity, and the ability to access geo-restricted content.
8. Disconnecting and Closing the Windows VPN Connection
When you've finished your VPN session, it's crucial to disconnect from the VPN server. A simple click on the "Disconnect" button within the VPN client will end your session. After disconnecting, you can close the VPN client to conserve system resources.
In conclusion, setting up a VPN on your Windows computer is a fundamental step towards safeguarding your online activities and personal data. The process involves selecting a reputable VPN service, installing and configuring the client, and testing the connection to ensure it's working correctly. Troubleshooting common VPN issues is essential for maintaining a smooth experience. Once your VPN is operational, you can enjoy the numerous advantages of secure, private, and unrestricted internet access.
By following this complete guide, you've taken a significant stride in fortifying your online privacy. For a seamless and secure VPN experience, we recommend trying UltraViewer, a user-friendly remote desktop software with built-in VPN capabilities. Download UltraViewer today and explore the world of secure, private, and borderless internet access.