2
March
UltraViewer is a popular free remote computer control software used by users around the world. However, some scammers have taken advantage of UltraViewer as a tool to scam others. Let's explore the following article to learn how to avoid remote scams.
How have scammers taken advantage of UltraViewer?
Today, the use of remote computer control tools has become popular and gradually become an essential part of those working in the Internet environment. In addition to TeamViewer, Anydesk,... UltraViewer is also known as an efficient and reliable remote access and work support software.
With the desire to provide remote work technology solutions for everyone, since its inception, UltraViewer has allowed completely free use. Anyone can download, install, and easily experience it for personal or work purposes.
However, scammers always exist, trying to take advantage of the loopholes of consumers and illegally profit. Many remote computer control software on the market, including UltraViewer, have been exploited and inadvertently become tools for scammers to gain access/control over victims' computers for malicious purposes.
Common tactics of online fraudsters using UltraViewer/TeamViewer
Usually, online scammers will contact you through a phone number or send you an email. They may impersonate representatives, technical support experts of well-known companies or technology solution providers. They will tell you that they have detected a sudden computer problem such as virus-infected computers, discovering copyright infringement of software...and offer to help completely free.
Some scammers can easily cause confusion for you by announcing that they are investigating police and suspecting unusual transactions or illegal behavior from you. They say you risk being fined, even prosecuted before the law. Then, they will ask you to download the UltraViewer/TeamViewer application, grant them access to your computer to check and secretly cheat on your bank account or online payment applications on your computer.
Tips to prevent remote fraud
Currently, UltraViewer is constantly upgrading its automated system to better prevent scammers. We have also established a Report Scam website at https://www.ultraviewer.net/report-scam.aspx to receive reports of fraud and analyze them to block scammers using our software as early as possible.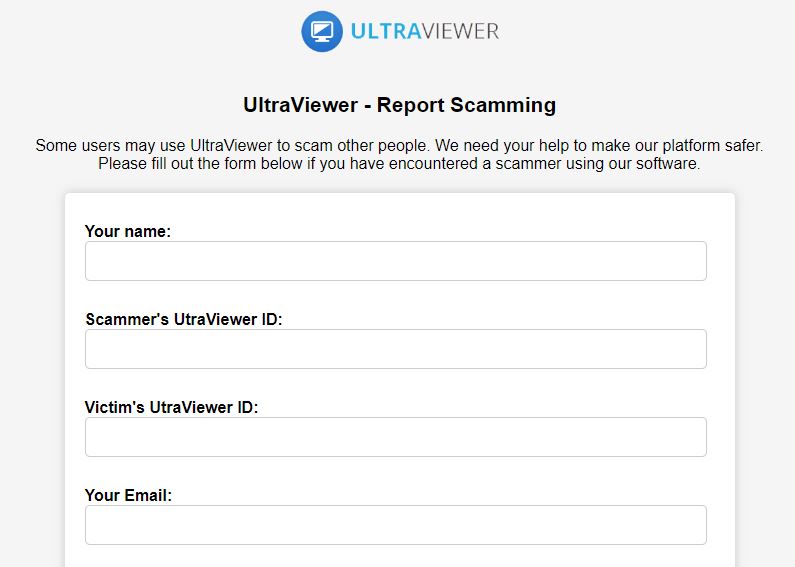 In addition, you should always proactively protect yourself from online scammers while remotely controlling and accessing your computer.
Use remote control software that is safe for the person being controlled. While the support person is controlling the computer, you can monitor their entire process on the screen, including the mouse movements. You can regain control at any time by controlling the mouse. Some software, such as TeamViewer and Anydesk, have a feature that darkens the remote screen, making it difficult for the person being controlled to monitor and observe the supporter's operations. This carries inherent risks that cannot be avoided.

Be wary of strange calls or unusual emails asking you to download remote control applications such as UltraViewer, TeamViewer, Anydesk, etc. If you feel unsafe, immediately shut down your computer to end the call. Never click on suspicious links in emails.

Do not perform remote computer connections, do not provide application ID and password to strangers that you do not trust or cannot authenticate their identity.

Do not provide important personal information such as bank passwords, payment applications, credit card numbers, or citizen identification numbers to strangers.

If you are the person being supported, monitor and supervise the entire process of remote connection. Immediately disconnect the UltraViewer application by going to the File> Exit menu if you suspect that the controller is engaging in fraudulent behavior or accessing applications on your computer system improperly.

If you do not know what UltraViewer is and what it is used for, or if you do not use it for any purpose such as remote work or support, please remove it from your PC. To uninstall UltraViewer, go to Start> Add or Remove program, then find UltraViewer from the list of software and click Remove to uninstall UltraViewer from your PC.
What should you do when you are scammed?
Scammers always have various tricks to infiltrate your devices and steal your information, even if you have tried to prevent them. If you are unfortunate enough to encounter scammers and lose money, follow these steps:
Step 1: Disconnect all remote connections and turn off your computer.
Step 2: Immediately report and request freezing or disabling your bank accounts, online payment applications, and credit cards. Then change passwords for any applications that have leaked information.
Step 3: Contact us and provide the UltraViewer ID information of the scammers through the Report Scam page so that we can block them from our system. Please open UltraViewer, go to File> View Logs to see their UltraViewer ID.
Step 4: Report the scam to the local police. Notify the police at support@ultraviewer.net so that we can coordinate and help the police catch the scammers.
Step 5: Ask an IT expert to check and reset your computer device.
Thus, you have learned important notes to avoid being scammed online. Always be vigilant and verify all information before considering any requests from strangers. If you suspect being scammed through UltraViewer, please let us know immediately so that we can continue to prevent and detect them as soon as possible.