30
September
Do you want to share your computer screen for free with many people at the same time? Try this feature now with UltraViewer - the remote desktop software.
1. WHAT IS SCREEN SHARING? WHEN DO YOU NEED TO USE THIS FEATURE?
In the process of working with a computer, sometimes you will need to share your screen, contents are in progress or available on your computer with others.
- You need to support technical problems or fix computer errors: slow computer, jerky, lag, computer virus infection, sound error, sudden screen shutdown ...
- You need support in the installation and instructions for use of common office software, programs that support working online on computers: Office suites, accounting software, sales management...
- Share documents and discuss online with partners, customers, and colleagues without sending or transmitting any data on your computer. Can present slides to introduce or present the problem in a visual and vivid way. Save time and increase work efficiency.
- Share and simulate the actual process of doing the job without recording the screen and sending video playback. Be suitable for a number of training fields – hands-on training, high technical requirements such as: setting up online advertising programs, professional training in graphic design, IT... Students can easily follow and do it correctly in real time.
2. EASY, FAST FREE SCREEN SHARING WITH ULTRAVIEWER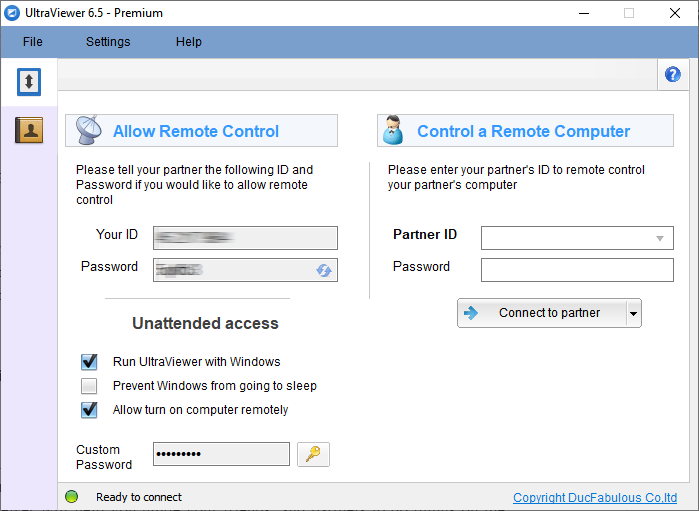 With UltraViewer software, sharing your computer screen will be easier and more convenient than ever. Below are some advantages of using UltraViewer for screen sharing.
EASILY
To share your computer screen with other people, simply provide your UltraViewer ID and password to your partner and ask them to access it. Screen sharing will take place quickly in just a few seconds.
SHARE TO MANY PEOPLE
When using UltraViewer license, you are allowed to share the screen at the same time for many people without limitation. This will be very convenient if you are working with a team. In addition, the cost to use this feature through UltraViewer is cheap and affordable many times as much as other software with the same feature.
REAL EXPERIENCE
The UltraViewer license supports 4K UltraHD resolution allowing you to share your screen with razor-sharp and real image quality. The audio streaming feature makes it possible for your partner to listen to some of the documents on the computer such as music, manuals, audio recordings, etc. As a result, those who share your screen with you will have a better and more enjoyable work experience.
STABLE CONNECTION
UltraViewer brings fast and stable connection speed to users. As a result, your screen sharing is smoother and more efficient.
SAFETY AND SECURITY
Only the people you provide your ID and password to can see your screen. If the visitor manipulates your computer, you can monitor the entire process and take back control at any time by controlling the mouse.
You can also set up so that the people sharing the screen can only view, but cannot send files or listen to the audio on the device without your permission. You are in complete control of the screen sharing process so it is very safe and secure.
Thus, you have discovered the screen sharing feature through UltraViewer. Please download and register UltraViewer license to experience this exciting feature!