14
December
Currently, UltraViewer continues to launch a new version 6.5 with the following important improvements, you can download the latest version at the home page of UltraViewer Website: https://ultraviewer.net/en/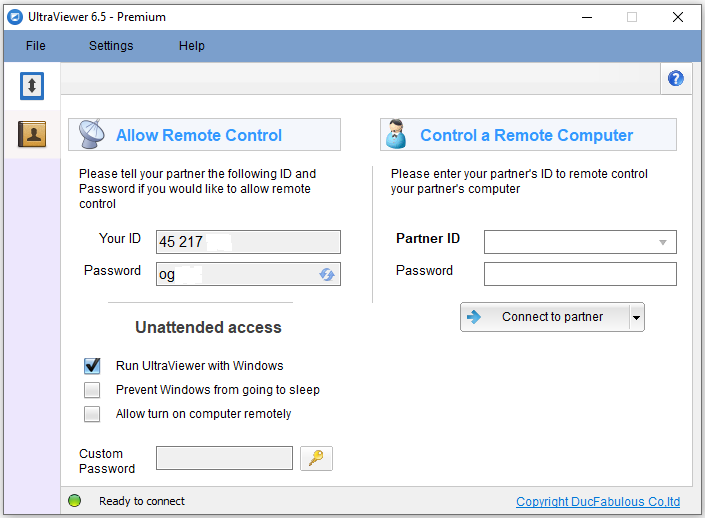 1. SHARING COMPUTER SOUND
If you need to work remotely related to video and audio editing, online learning, and audio debugging, ect, listening to audio is indispensable. In older versions of UltraViewer, you can't hear the sound from your partner's computer. But, currently, with UltraViewer version 6.5, you can hear your partner's computer sound easily.
To use the audio feature, the computers need the following components:
- Both computers use UltraViewer version 6.5 or higher. Please download the latest version of UltraViewer if you are using the old version.
- Both computers are installed the version 3.5 and later of .NET Framework (Windows 7, 8, 10, 11 all have .NET Framework pre-installed, so you almost don't need to worry about having to install additional . NET Framework)
To hear the sound of the partner's computer while controlling, go to the Settings > click Computer sound as shown in the following figure:

In case you need to hear the sound of any computer connected, you can set this feature to always be turned on automatically in Settings > Controls > Computer Sound.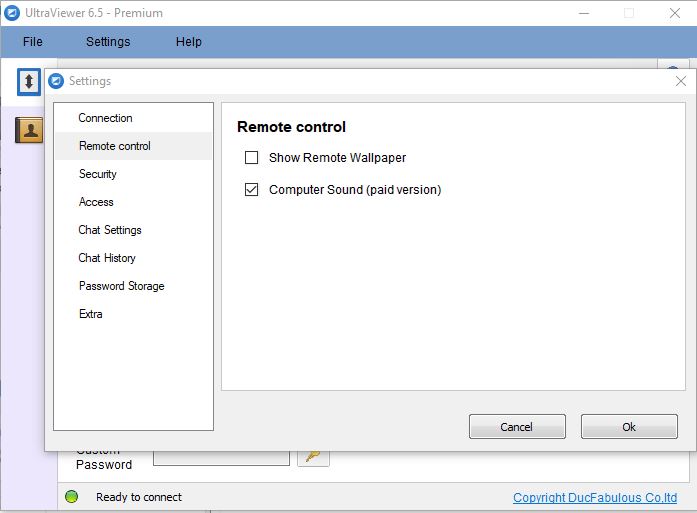 Currently, UltraViewer's audio sharing feature is only available in the Pro version, therefore, to use this latest feature, you can buy the UltraVIewer Pro license.
2. HOW TO FIX CRASH WHEN EXITING ULTRAVIEWER SOFTWARE
Some computers, when you press the X button to exit the UltraViewer software, receive an error message (crash), the latest version 6.5 has fixed the above error.
3. FIX MEMORY VIOLATION WHEN CONTROLLING
While controlling, you encounter similar messages about Memory such as Out Of Memory or the software automatically exits. Please download the version 6.5 and try again.
4. FIX "NOT GETTING MY ID" ERROR
The UltraViewer version 6.5 fixed a rare error "not getting ID" on some computers.
FIXED ERRORS IN SMALL OLDER VERSIONS BUT NOT NOTICE:
1. Fix some buttons' errors like Ok, Cancel, Login which flashed continuously and was hard to click on Windows 11
2. Fix "Icon not canceling" error in Taskbar when exiting UltraViewer software
3. Fix "Err at LoadStoredPFF" error: Type Mismatch:
4. Add Auto Recover feature to help UltraViewer automatically restart when it sees an existing error.
5. Fix an error when searching, editing and saving contacts, an error was reported:
This computer or contact is already in your list.
6. Fix the error that the first time adding contacts could not save the password
7. Fix the error that the software gives an error when you add contacts, then edit and save it
This computer or contact is already in your list.
8. Fix exiting error that you press the Connect button but the connection is lost
9. Fix 4k UltraHD monitor not being able to connect
10. Fix connection problems and "display getting ID" error in rare computers after losing network which lead to being unable to connect or turn on the remote computer.
11. Allow sending large files (up to 8 GB)
Please re-download the latest version of UltraViewer remote desktop software to experience the latest and most stable features!